Navigation
of the overall web site
of Neuman/Augustin Family surnames
of Neuman/Augustin Family ancestral village maps & photos
of Neuman/Augustin Family photos
of the main Neuman/Augustin Family line
of Neuman/Augustin Family events
About This Site

Introduction & F.A.Q.
Are we researching the same people or places?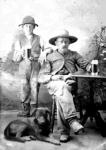 The site documents the 11 earliest known generations of the Neuman/Augustin family - from the mid-1500s in northern Germany through their first generation in northern Clark County, Wisconsin.

The Neuman family originated in the Uckermark region of Brandenburg and arrived in Clark County, Wisconsin in the early 1880s by way of Manitowoc County, Wisconsin. The Augustin family originated in the Kreis Parchim region of Mecklenburg and they too arrived in Clark County in first 1/2 of the 1880s.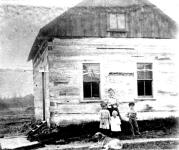 The links at left will lead you to a surname index of 1120 people (163 surnames) included in this family, a places directory with maps and photos of their ancestral villages, a family photo album, a pedigree chart of the direct ancestors, and other information.