Navigation
of the overall web site
A-Z index of researched Uckermark surnames
Uckermark village maps, photos, etc
About This Site

Introduction & F.A.Q.
Are we researching the same people or places?
This section of the site contains a summary of my Uckermark genealogy research, primarily in Kreis Prenzlau and the immediately adjacent area of Kreis Stargard, Mecklenburg-Strelitz.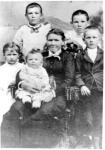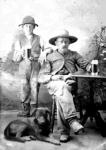 A major portion of this documents the ancestors and family of my great-grandparents Ephraim Adolpf Friedrich "Fred" Neumann and Caroline Charlotte Dorothea Henriette Mührke, who emigrated in 1867 to Schleswig Township, Manitowoc County, Wisconsin and later settled in northern Clark County, Wisconsin.
The links at left will lead you to a surname index of 138 people included in this section, a places directory with maps and photos of Uckermark villages, and other information.