Navigation
of the overall web site
A-Z index of researched Kreis Greifenberg/Regenwalde surnames
Kreis Greifenberg/Regenwalde village maps, photos, etc
Kreis Greifenberg/Regenwalde families

About This Site

Introduction & F.A.Q.
Are we researching the same people or places?
This site contains a summary of my Hinter Pommern research, primarily in Kreis Greifenberg, especially in the area near Treptow, a.R. (now Trzebiatow).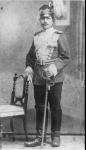 The links at left will lead you to a surname index of 528 Hinter Pommern people documented here, a places directory with maps and photos of Kreis Greifenberg villages, family web sites for some Kreis Greifenberg surnames, and other information.
Enjoy! And please let me know if you have a connection to anyone included here.
Copyright © 1998-2019
This page created October 1st, 2003, last updated August 22nd, 2019